Our Clients
Read some of our families' care stories at Right at Home.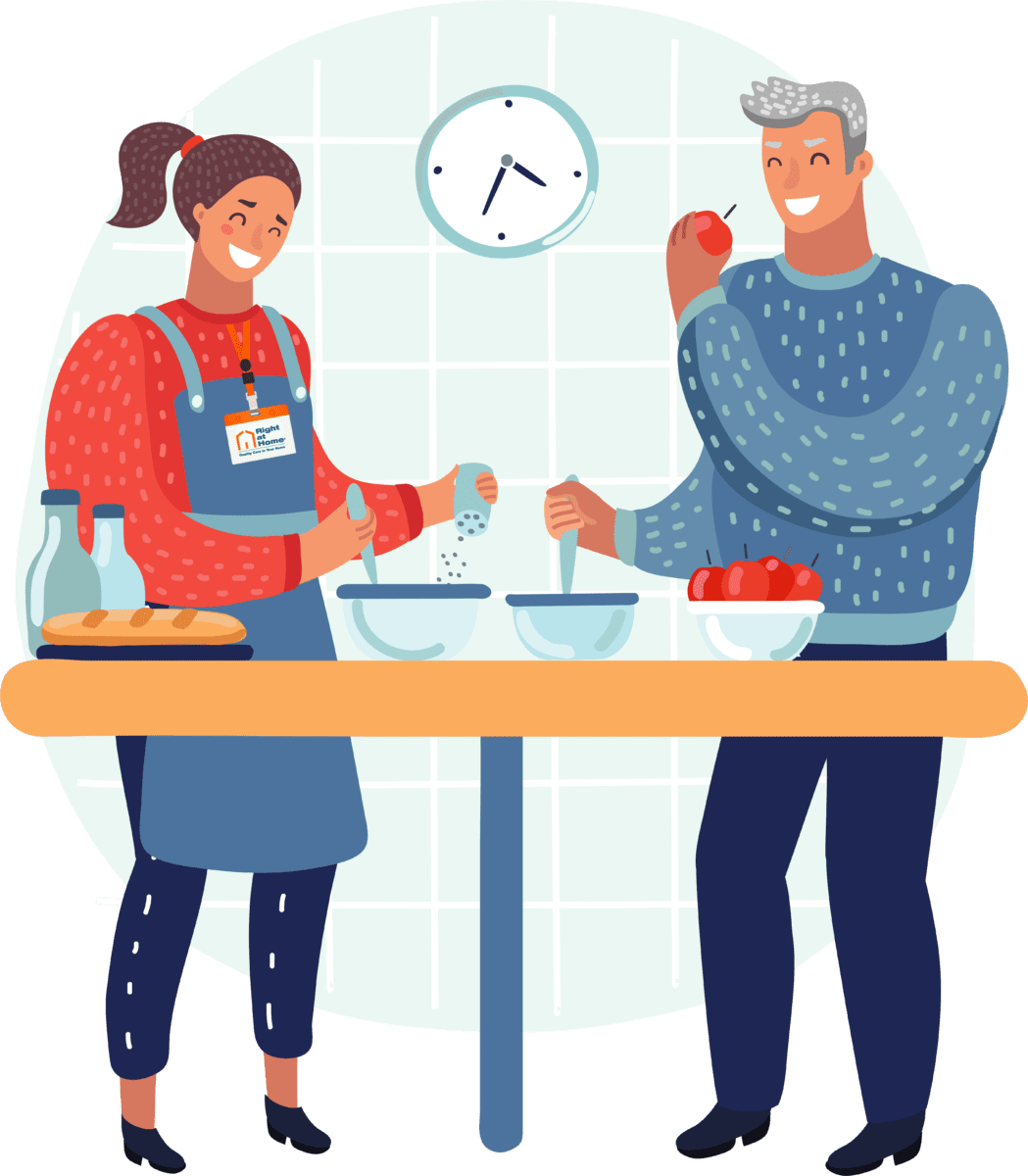 Client Testimonials
Therapy through social stimulation
In 1980, whilst studying automotive engineering at college in Chesterfield Chris had a bad car accident. He was 20 years old and the accident fractured his femur. Complications from this injury caused bone marrow to get into Chris's blood-stream and eventually into his brain where it caused multiple lesions. Chris was in a coma for 4 weeks.
His mother was told he would never walk or talk again. Through perseverance and determination Chris has taught himself to talk again. Chris has always been creative and through this passion began writing poetry as a form of rehabilitation for his speech, he has now written over 80 poems and often reads them to the Bingham and Beeston Folks Club on a Friday night, which we never miss.
Chris's other passion in life is cars, whether it be just viewing them, discussing the mechanisms of a vehicle or simply having a ride out. He enjoys watching Formula 1 racing and has an interest for VW Beetles.
Outcome:
Chris is supported by Right at Home taking both hobbies into consideration by prioritising his social supported Chris continues his speech therapy and improved his communication skills. This allows his independence to aid his well-being, something we encourage with all our Clients. The highlight for us was a special trip to Donnington HQ where he was taken on a tour of supercars as well as driving at full speed around the track. His face was a picture and it was very emotional for all the team who supported him in his daily living.
---
Complex Care and Support Professionals
Darren is 56 living with multiple sclerosis, his condition has gradually worsened over time and restricts his daily functionality although he lives life to the full. Like many of our Clients previous to Right at Home Darren had experienced inadequate and unreliable support, not meeting his requirements he would often be left waiting for people to arrive or be subject to late rushed visits.
He resides with his parents and has a great sense of humour and this relationship can at times be affected by his condition and this impacts on his daily life. Whilst Darren adores his parents, he would also like opportunities to be independent which is our speciality.
Our team of professional CareGivers are very vigilant, often assisting his Darren's parents in supporting with the ordering and collection of medications. Darren and his parents were a little reluctant at first as they had always managed everything themselves, over time they could see our understanding and trusted in Right at Home.
Our management team also arranged for extra hours for Darren through social services to help in supporting him to any appointments using the Right at Home mobility vehicle. On discovering that Darren would like the opportunity to have a break away we looked up destinations of interest to Darren sourcing a hydrotherapy pool, it also has a private hot tub which accessible via a hoist.
Outcome:
Since Right at Home have begun supporting Darren, he and his parents have peace of mind that Caregivers will arrive on time and they know Darren and his routines and preferences. John and Wendy have been able to relax more and not have to worry about ensuring Darren has everything he needs as Right at Home now manage all of this.
Live Reviews from Homecare.co.uk the UK's Leading Homecare Review Website