Our Clients
Read some of our families' care stories at Right at Home.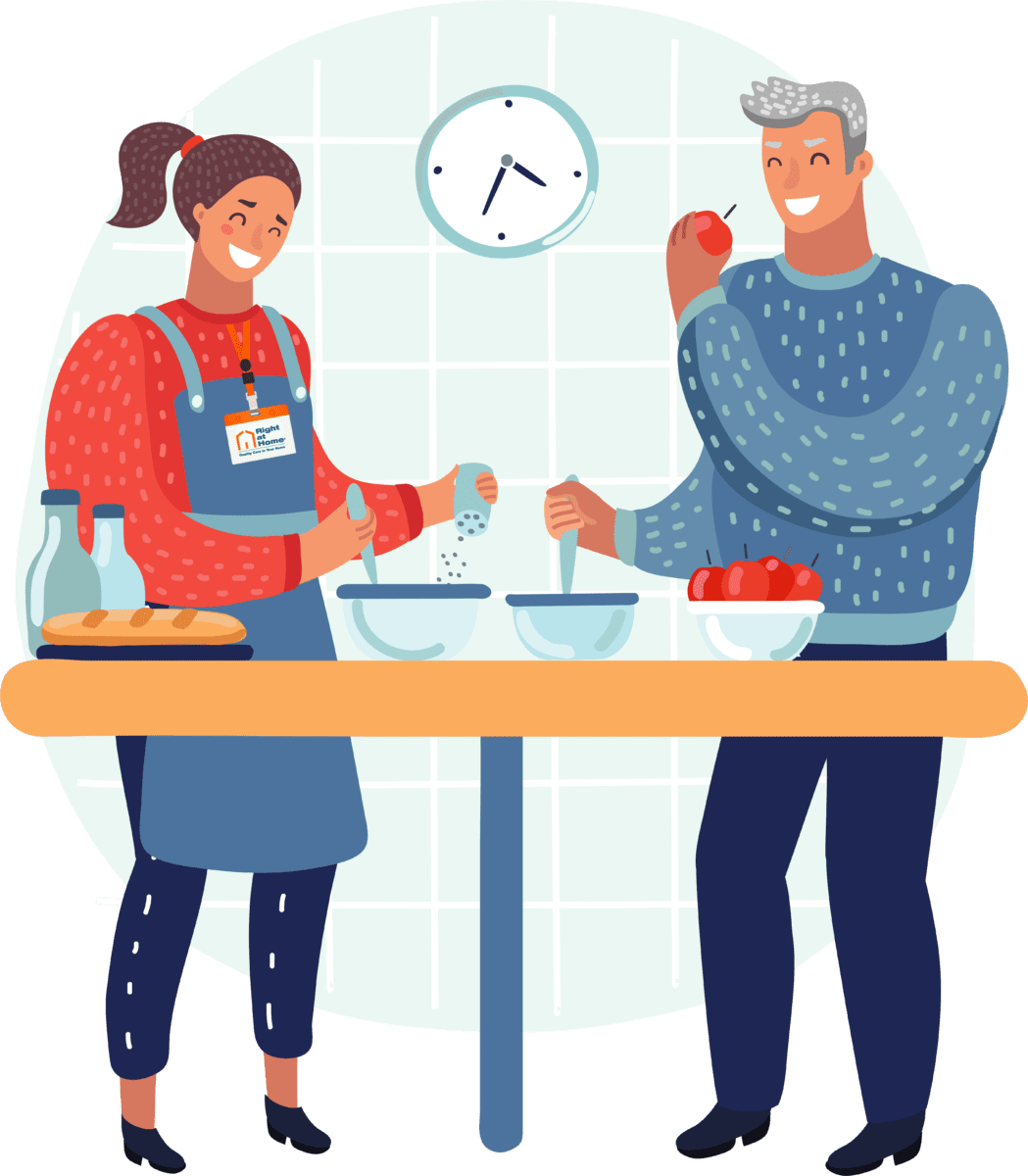 Client Testimonials
Joan was one of our original clients when RAH Stockport & Didsbury began trading. We were contacted by Social Services, Direct Payments in November 2017. Social Services told us about Joan's situation that she remained in the Christie Hospital with stage 4 cancer. Direct payments had struggled to commission a domiciliary care provider to enable Joan to return home with a package of care and support.
Social Services provided a comprehensive care assessment in relation to Joan. It was clear that Joan wanted to maintain her independence, for example around managing her medication. Joan also wanted to access her local community and had a goal of visiting her local crafts centre.
Our Registered Manager assessed that RAH could support Joan and liaised with Direct Payments team to ensure that Joan's home had appropriate adaptations to her house because she required to live on the ground floor and not access the stairs. Additional grab rails were fitted in Joan's toilet. Joan returned to live at home and we provided her with a package four visits each day. Joan continued to receive the high-level support from RAH.
However, Joan soon deteriorated and began to approach the later stages of her life, which coincided with her two sons not being able to be present with her over a weekend period when she was likely to die at home. With her son's consent, our carers were insistent that they couldn't leave Joan alone over the weekend.
This meant that they would stay with Joan, even when their scheduled visit times were completed, throughout the weekend. Joan did pass away peacefully at Home on the Monday, when her son was able to be present. The family were so grateful that our carers had chosen to be with and support Joan, throughout the previous few days when they could not be present.
Social Services became aware of our carers choosing to not to leave Joan at Home alone, during the later stages of her life and agreed to pay the carers during the hours they spent with Joan, outside of their scheduled call visits.
---
James is a young adult with learning difficulties. James presents with difficulties in building and maintaining social relationships and has education and communication needs. James currently lives at home with his grandmother and grandfather and they assist him in relation to his daily support needs We were contacted by a social worker who was aware that we provide care and support to people with learning difficulties.
As a result of the initial enquiry and consultation with James, his family and the social worker we agreed to provide James with a total of four hours care and support each week. This consisted two, two hour calls each Tuesday and Thursday completed by a single carer.
James social care needs centred around his learning, socialising and building life skills. James was being supported by his RAH carer to work at a local play farm. James loves animals and it was evident that he got a lot from visiting the farm. However, James lacks confidence and this combined with his difficulties in maintaining social relationships meant that he decided that he no longer wanted to work at the farm.
James was introduced and matched with two male carers and has built up a fantastic rapport with both of them. James was at risk of becoming socially isolated because of his lack of confidence and reluctance to leave the security of his home environment. James's carers encouraged him, through building his confidence and asking about his passions and interests to consider leaving his home for social events and activities.
As a result of talking to James about cars, the carer established that James had never seen a Lamborghini. Subsequently, the carer took James to the Stockport Lamborghini dealership. The staff in the dealership were fantastic and invited James to sit in the supercars and have his pictures taken.
James was still buzzing and talking about his experience the following week. The carer has arranged subsequent trips to the dealership for James and taken photographs of him enjoying the experience.
---
Lillian likes to be called Lilly. Walter, Lilly's husband, is the most important person in Lilly's life, they have been married for 50 years.
Lilly came to be supported by Right at Home in September 2018 because of the poor care and support she had previously experienced. Lilly developed severe pressure sores and was hospitalised. Right at Home were approached by the social services and we completed a full assessment of her needs. Our CareGivers were provided with the latest React to Red Skin pressure ulcer prevention training by the local District Community Nursing team.
As part of the pressure relieving strategies to enable Lilly's wounds to fully heal and further skin damage to be prevented Lilly was provided with the innovative patient/client turning equipment. The lifting element of the system is placed between the mattress and the mattress platform, which enables the mattress to be gently and quietly raise at pre-defined time periods to help reposition Lilly safely and regularly.
Lilly's CareGivers were provided with full training in the use of the equipment, which had been arranged via Stockport Moving and Handling specialists. Lilly's bed repositions her every 30 minutes or 60 minutes depending on the setting and provides her with pressure relief in between carer visits.
Due to the intense and consistent support Lilly has experienced from Right at Home the pressure damage to her sacrum and heels has drastically improved. Right at Home have built a strong relationships with the District Community Nursing teams who have provided the specialist pressure sore prevention training.
Live Reviews from Homecare.co.uk the UK's Leading Homecare Review Website