Companionship and Support in Reading & Wokingham
Providing a trusted, friendly face to share interests and hobbies with.

"My friend's CareGivers are very kind and patient, they are also very competent people who really care for their Clients. Right at Home has been looking after my friend for the last eighteen months, keeping his home clean and cooking for him, they will always go the extra mile. I would recommend this company because they are a great team of people who look after my friend very well and I send my thanks and appreciation to you all."
Marion B
|
Friend of Client
What are the benefits of companionship and support?
---
Companionship can allow you to regain or enable your independence by getting out in the community and boosting your self-esteem. 
Our Clients love to experience community life in Reading & Wokingham, including a visit to Holme Grange Craft Village, the hidden gem in the heart of the countryside offering a unique shopping experience. 
Our CareGivers are available to support however and whenever they are needed. Companion care can help you take the first steps towards meeting new people, rediscovering old hobbies or taking up new interests.
Above all, we aim to match our CareGivers and Clients so they share interests and personality traits. This way, both can benefit from a genuine friendship, built on trust and mutual understanding. 
You've got a friend in us…
What do our companion care services include?
---
Families just like yours, trust and rely on Right at Home Reading & Wokingham to provide companionship to their loved ones. Whether it's accompaniment to the local shops or to meet a friend for lunch, we provide bespoke support for every Client. 
Our Reading & Wokingham-based team of private companions for elderly and young people primarily offer much needed friendship and rapport. We can also help with routine household tasks that may have become difficult. Or we can simply be there as a friend to enjoy hobbies and share interests with.
Our companionship services are available across Reading & Wokinghamand they include:
Emotional support
Social interaction in the community
Respite for family CareGivers
Company whilst doing hobbies
Food preparation
Light housekeeping
Being there as a friend to listen and talk to
Support on a day trip or even further afield
Support with using public transport and escorting on journeys
Help with everyday tasks, like shopping for food or clothes
A popular activity with our Clients in Reading & Wokingham is a trip to South Hill Park Arts Centre or a visit to the Rainbow café in Woodley. 
Ease the feeling of loneliness and share your time with a trusted, familiar and friendly face. At Right at Home Reading & Wokingham, we offer person-centred and engaging companionship and support.
Speak to our team in Reading & Wokingham to discuss your needs or those of a family member.
FAQs about our companionship care services in Reading & Wokingham District
What is companionship care?

Companionship is defined as the company of another person who you enjoy spending time with. Our companion care services in Reading & Wokingham may involve support with regular activities in the community, such as going for a stroll around Dinton Pastures California Country Park. 

Companionship also comes in the form of a regular visit for a cup of tea and a chat. Our support services are available across Reading & Wokingham and are designed to ease the feeling of loneliness with a trusted, friendly face.
Do you offer companionship live-in care in/near Reading & Wokingham?

Our highly-trained CareGivers in Reading & Wokingham are carefully matched to your requirements, to ensure our service meets your needs and preferences. With live-in care, Clients benefit from having a trusted CareGiver and companion living with them in the familiar surroundings of their own home. 

Explore the live-in care services that we offer across Reading & Wokingham to learn more about the type of care that might suit you and your family.
What does a companion for the elderly do?

Our Reading & Wokingham-based companions are not just available for elderly support. We support adults of any age with everyday tasks and daily activities. Our approach to companion care enables continued independence and supports wellbeing. 

Most of all, our CareGivers are there to listen. Private companion services can prevent feelings of isolation and loneliness, which can have a big impact on a person's mental and physical health. 

Contact our Reading & Wokingham homecare team to learn more about our services.
What is the difference between a companion and a CareGiver?

Our expert CareGivers provide specific services, such as personal care, specialist care, and support for elderly people. 

Care companions are often able to provide these services, but their primary purpose is to support Clients with day-to-day activities, whilst spending time with a trusted friend. 
What does companion care cost in Reading & Wokingham?

The cost of our companion care will depend on the needs of each Client. We calculate costs based on the number of hours of care provided each week. 

Please contact our Reading & Wokingham-based team to discuss the level of care you require so we can then provide an accurate cost of care.
If you have any further questions about our companion care and elderly support, or to discuss your specific needs in more detail, please contact our Reading & Wokingham office on 0118 207 0600.
Download Brochure
Thank you for your interest in Right at Home.
Please download our brochure to find out more.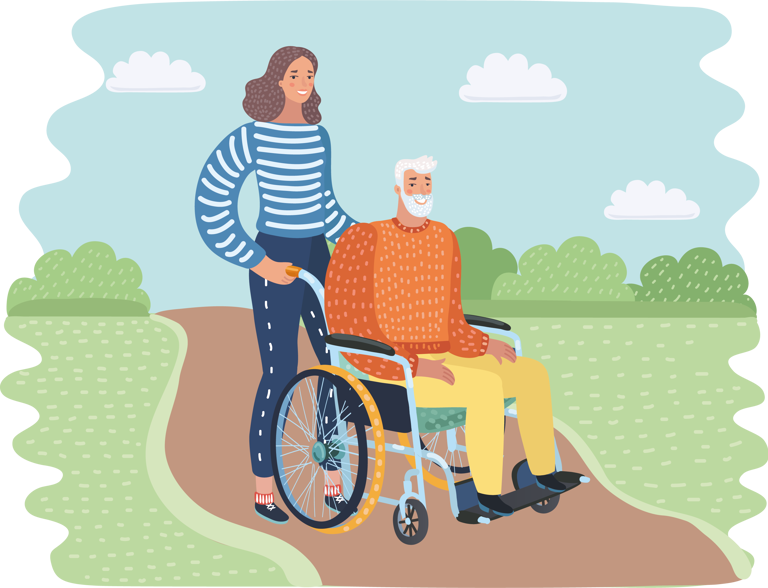 Our Trusted Services
Families just like yours, trust and rely on Right at Home to provide high-quality homecare services for their loved ones. We offer a wide range of services to support Clients to remain living safely and independently in the comfort of their own home.