Private Live-in Care Services in Enfield
Keeping your loved ones in their own home for as long as possible.
Quality Live-in Care services from Right at Home Enfield
---
24-hour live-in care services across Enfield
Personalised live-in homecare plans tailored to your individual requirements 
Popular live-in care agency in Enfield
Contact Right at Home Enfield to discuss how a live-in Carer could support you or a family member.
What is live-in homecare?
---
Live-in care involves having a trusted and reliable Carer live with you in your own home. Our live-in Carers are available across Enfield to offer support with day-to-day activities, personal hygiene, companionship, and even specialist medical care.
Our live-in care services in Enfield are an extremely viable alternative to a care home, offering one-to-one highly personalised, flexible care and support in the comfortable and familiar surroundings of your own home. 
Here's just one great review of our live-in care services in Enfield: 

"The Right at Home team provided an excellent service that went above and beyond what we had expected and were very accommodating to our ever-changing needs, often at short notice. We are very grateful for all the extra care and effort that was made. I found that the team were always open to communication and it was always easy to get hold of. They are a company I would not hesitate to recommend. Excellent work!"
Jo A
|
Daughter of Client
How does Live-in Care work?
A carefully selected Right at Home Enfield CareGiver will live with you in your home, delivering a bespoke plan of care and support. All of our CareGivers are trained to the highest possible standard, so you can rest assured that you will receive an exceptional level of care and support. 
Our live-in CareGivers meet more than just your physical needs; we work with you and your family to create a personalised care plan which incorporates your personal goals and interests. We'll help to define the type of care you need, following input from you, your loved ones, and other professionals involved in your care.
Our trusted team of live-in Carers in Enfield can support you to complete activities, shopping and errands amongst many other things. Our tailored approach to homecare allows for control, choice, independence and above all, peace of mind. 
If you are a family CareGiver looking to go on holiday, our respite care services offer high-quality care for your loved one whilst you take a well-deserved break. Our team of CareGivers in Enfield can also assist family Carers who are looking for more regular support, to enable them to take a daily or weekly break from their CareGiving duties. 
The benefits of live-in care services
---
Live-in care provides you or your loved one with the opportunity to stay in familiar home surroundings for as long as possible. Many of our Clients have strong ties with their community in Enfield and are able to remain living at home with the help and support of a live-in CareGiver. 
Live-in care allows for one-to-one support, from help with general household tasks such as hoovering and meal preparation, to professional personal care and hygiene services. This tailored level of care allows our Clients to continue living independently at home.
Our Clients also benefit from the reassurance that there is another person in the house. Private live-in Carers are available to assist in case of an emergency or any unforeseen need. This reassurance is often a key factor in giving our Clients the confidence to continue living in their own homes in Enfield.
We understand that there is never an easy time to be faced with the decision to move out of your home. Older people and vulnerable people of all ages, may not want to uproot into an unfamiliar care home setting. Our live-in care or one of our 24-hour care at home packages offer a practical alternative.
FAQs about our live-in care services in Enfield
What does full-time homecare involve?

Live-in care can take several forms but in essence, one of our Enfield-based Carers takes up residence in your own home and provides you with care whilst living with you. 

Live-in care allows you to continue living in the comfort of your own home, surrounded by your treasured possessions, with a CareGiver available to assist you with your usual daily routine. With a live-in CareGiver, you will also have a trusted, friendly face to share activities and hobbies with.

Many of our Clients enjoy time with their Carer, outside of the home to or enjoy a stroll around Bush Hill Park Wildlife Garden or to enjoy other community-based activities.

Our live-in care services in Enfield are a real alternative to moving into a care home. Full-time homecare can provide you with the care and support you need to remain living safely at home.
Why choose live-in care over residential care?

The primary benefit of live-in care is that our Clients are able to continue living at home in Enfield. Staying in their own home can offer a vital level of familiarity, particularly for those living with dementia or a condition that can cause confusion. 

What's more, live-in care enables our local CareGivers to build a relationship with their Client. Your CareGiver will work closely with you to understand your routine and needs and you will benefit from the reassurance that there is another person in the house who will be able to assist you with care and household tasks. 
What's the difference between live-in care and 24-hour care at home?

Live-in care is where a CareGiver lives with you in your own home. Your live-in CareGiver will support you with your daily routine, which may include helping you to get washed and dressed, preparing meals, accompanying you out in the community and general housekeeping.

Your live-in CareGiver will have breaks during the day to relax and enjoy some free time and will go to sleep during the evening. For Clients who need regular care during the night, or require someone on hand at all times, a team of Carers can provide around-the-clock support so families have peace of mind that their loved one's needs are taken care of 24-hours a day.
How much does a live-in carer cost?

The cost of our homecare is calculated based on each Client's individual needs. In some circumstances Local Authorities can help to pay for live-in care. For more information, take a look at Enfield council's website for more information. 

We are often asked whether live-in homecare is cheaper than a nursing home or assisted living. Live-in care is a cost-effective alternative to a residential care home. Your live-in CareGiver will take up residence in your home for an agreed period to provide one-to-one support and the cost will vary depending on the types of care you require. 
For more information on our live-in care services, or if you have any questions, please contact our friendly office team on 020 3967 7500.
Download Brochure
Thank you for your interest in Right at Home.
Please download our brochure to find out more.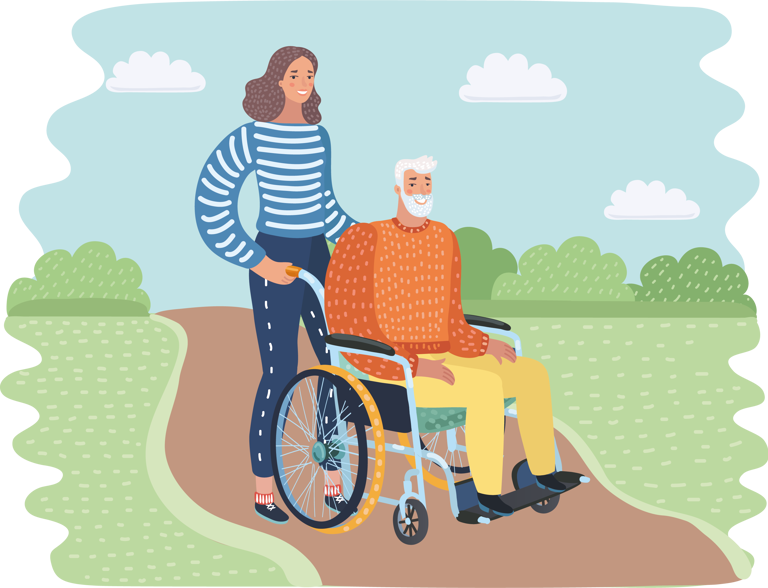 Our Trusted Services
Families just like yours, trust and rely on Right at Home to provide high-quality homecare services for their loved ones. We offer a wide range of services to support Clients to remain living safely and independently in the comfort of their own home.