Neuromuscular Disorders: Treatment and Management in Enfield
Highly-personalised care from a dedicated, professional and consistent team in Enfield.
Types of Neuromuscular Disorders
---
Neuromuscular conditions affect the nerves that pass from the brain and spinal cord to the muscles.  They also affect the muscles themselves, and the complex neuromuscular junction between each nerve and muscle (myasthenic conditions).
There are many types of neuromuscular disorders, most of which require some level of support or homecare. Neuromuscular conditions are complex because they can affect both motor skills and cognition. 
Speak to your local Right at Home office in Enfield to see if our homecare services can help you.
---
The types of neuromuscular disorders that our CareGivers in Enfield can support with including
Amyotrophic lateral sclerosis (or Lou Gehrig's Disease)
Multiple Sclerosis (MS)
Spinal and Duchenne muscular dystrophy
Motor Neurone Disease
Specialist care requirements may vary between different conditions and from person to person, based on their unique situation. That's why we define personalised care plans for each individual, whatever their neuromuscular condition may be.
Many of our Clients and their loved ones rely on our MD or MS homecare. Here's what just one Client had to say about our service:


"Right at Home Enfield offers an extremely caring service. Both the office team and care staff are a pleasure to deal with. The staff are dedicated and communicative the visits are not rushed, unlike previous agencies I've dealt with. I have an excellent bond with my carers and they always want to offer the best service they can. I cannot praise them highly enough for the peace of mind they have given me."
V N
|
Client
Our specialist care services for neuromuscular disorders in Enfield
---
Whether you're looking for homecare for MS patients or homecare for muscular dystrophy, Right at Home Enfield can help. Amongst our specialist homecare services, we offer: 
Safety supervision
Support getting dressed
Personal care and grooming
Light housekeeping
Laundry services
Medication reminders
Mental stimulation
Transport assistance
We have a team of specialist Carers in Enfield who are able to offer support for people with muscle wasting conditions.
Our CareGivers are experienced in using a range of specialist equipment that may be needed as part of an MD home care routine. Our services also incorporate specialist care plans for multiple sclerosis in-home care, and other common neuromuscular conditions.
Alongside our specialist neuromuscular disorder care. We also offer full time, live-in care, for those who may need extra assistance.  Respite care available in Enfield also proves invaluable for family carers to take a break from supporting their loved ones
Speak to Right at Home Enfield to discuss your personal care needs. 
FAQs about our homecare for neuromuscular disorders in Enfield
What causes neuromuscular disorders?

Many, but not all, neuromuscular disorders are inherited or caused by a gene mutation. For various reasons, an affected individual might have no family history of a similar condition.

Neuromuscular conditions may stem from autoimmune or hormonal disorders, or even/perhaps a viral infection. However, in many cases, unknown factors can play a big part in leading to a condition. 

No matter the cause, it's vital to find manageable ways to adjust to the various symptoms and effects. Our specialist CareGivers in Enfield can help.
What are common symptoms of neuromuscular disorders?

We know that living with a neuromuscular condition can be difficult for our Clients. Symptoms and effects of neuromuscular disorders are not always consistent. This is why it's important for our CareGivers to work with you to come up with an individual care plan that meets the Client's needs.

Common symptoms of neuromuscular diseases can include:

Muscle wastage
Muscular weakness
Muscle pain
Muscular spasticity
Difficulty swallowing
Difficulty breathing

These symptoms can make it difficult for people with MS, or those living with muscular dystrophy to live independent lives. That's why our homecare services focus on physical support and help with neuromuscular disorders management. Our CareGivers in Enfield also provide invaluable emotional support for Clients facing some challenging symptoms.
What treatments are available for neuromuscular disorders in Enfield?

For many neuromuscular disorders, progressive muscle weakness is an unavoidable symptom of the condition. In these cases, there is no specific cure. However, regular physical therapy can reduce (and even reverse) some of the impacts of MS, MD and other disorders.

Our team of specialist homecare providers in Enfield will define a care plan to suit your treatment regime. With input from local healthcare professionals, we support our Clients through ongoing treatment, adjusting the level of care we provide accordingly.
How can exercise improve neuromuscular connections?

For certain neuromuscular disorders, physiotherapy and exercise can play an important role in preventing muscle wastage and reducing pain. 

Our team of CareGivers can help you or your loved one with transport to appointments and physical therapy sessions. 
Neuromuscular information and resources
---
Many neuromuscular disorders cause weakness and it can sometimes be very difficult to identify the exact cause of the problem.
There is a range of neuromuscular diseases that include muscular dystrophies. In some cases these are severe and limit life expectancy, others are relatively mild.
For more information visit the Muscular Dystrophy Campaign and the MS Society websites.
Alternatively, take a look at our information hub for guidance. Specifically, read our guide on How to Prepare for Homecare. This provides useful insights whether you're seeking homecare for muscular dystrophy or specialist support for other neuromuscular disorders.
Download Brochure
Thank you for your interest in Right at Home.
Please download our brochure to find out more.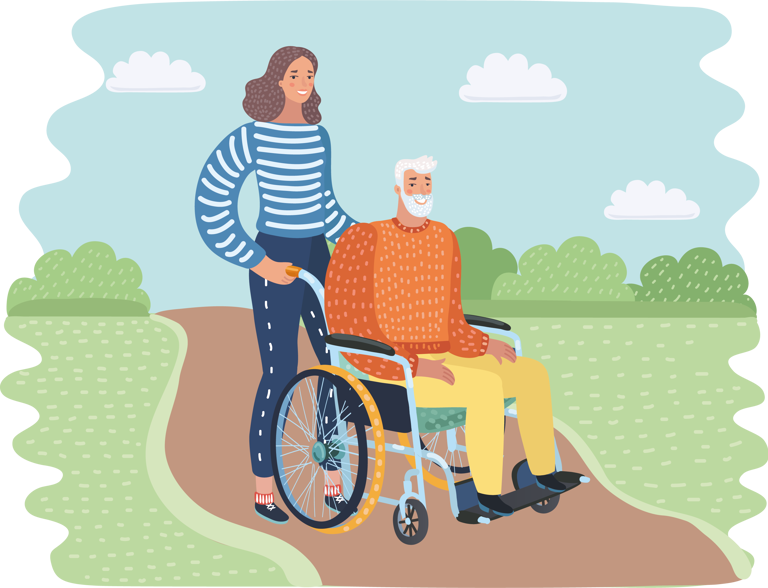 Our Trusted Services
Families just like yours, trust and rely on Right at Home to provide high-quality homecare services for their loved ones. We offer a wide range of services to support Clients to remain living safely and independently in the comfort of their own home.