Right at Home offices celebrate a double award win
Judges at the Leaders in Care Awards praise 'an empowering approach to care delivery'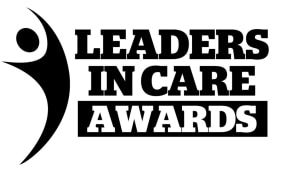 Published: 23/10/2021
Judges at the recent Leaders in Care Awards praised the impact that Right at Home's services have on clients' lives, as RaH franchise offices picked up two of the five homecare categories.
RaH Guildford & Farnham took home the 'Home Care Business Initiative of the Year Award' for its Friends of Right at Home scheme, and Stacey Gentle from Right at Home Stockport & Didsbury was named 'Home Care Registered Manager of the Year'.
Stacey was praised for her empowering approach to supporting clients and staff.
Judges heard how she worked with a client who was a keen churchgoer but had been unable to climb downstairs for over six months, after having a stroke.
Stacey worked out a safe method to get the client downstairs and arranged for the necessary equipment to be put in place. She also persuaded the council to fit a ramp at the front of the house. Within weeks, the client was attending church every week.
Stacey also encouraged the local council to help the family of a woman with a rare genetic condition that has left her unable to walk and with severe learning difficulties. The family did not have the means to pay for professional care, but with Stacey's help, the council has now provided enough funding for them to receive support from two carers every weekday morning.
This proactive and outstanding level of care has seen Right at Home Stockport & Didsbury grow from averaging 600 hours per week to now delivering over 1,100 hours per week, with clients recommending their services to others in need.
Receiving her award, Stacey said: "I'm shaking. I'm just shocked. It's amazing and I feel very proud."
Right at Home Guildford & Farnham was recognised for quickly responding to a need for additional support for vulnerable people in the community at the start of the pandemic.
Owner Alastair Shanks and his wife Kate developed the Friends of Right at Home voluntary service and within weeks, had recruited 176 volunteers.
Each volunteer was interviewed, trained and DBS checked, and the local council's Coronavirus Support Line quickly started referring people to the service. The volunteers shopped for over 130 people per week during lockdown and offered phone companionship to 36 people. By using its Direct Debit system, RaH GF enabled the volunteers to do their shopping without cash changing hands, which increased safety for service users.
The Friends of Right at Home also rose to the challenge of ensuring vulnerable, isolated people could enjoy Christmas 2020, amid all the Coronavirus restrictions.
Realising that all charity lunches for the elderly were cancelled, Alastair, Kate and 200 other volunteers delivered a portion of their own, home-cooked meal to 108 people on Christmas Day.
CareGivers rallied to deliver care packages and the local Waitrose stepped up to donate Christmas puddings for each dinner.
Judges heard how throughout 2020/21, Right at Home GF led the Farnham Dementia Action Alliance, carried out community health checks and provided care training for clients' families in their homes.
Owner Alastair Shanks said: "We are amazed. We feel honoured to be collecting this award on behalf of all our team and volunteers."
The Leaders in Care Awards celebrate care providers' achievements in driving innovation and providing outstanding, person-centred care over the last 12 months. The winners were announced at a ceremony attended by more than 300 industry executives, in Birmingham's National Conference Centre on October 14th.