Joe & Madeline Morgan, owners of Right at Home Portsmouth
When Joe left his 30-year career in aerospace in search of a new challenge, he had no idea half his family would join him on the journey!
"The idea of having my own business had appealed to me for years, but it wasn't until an unexpected redundancy package was offered that I felt it was something I could really pursue. Even then, I still took another two jobs in the same industry before I actually committed to finally cutting the safety cord of a monthly salary. I think the real reason for that was down to not yet having had the right idea of what to do."
Joe continued, "I was quite quickly sold on the merits of franchising. I didn't have an idea for my own start-up, and when I balanced the challenges of buying an existing business and running it successfully, against the relatively de-risked alternative of franchising – proven model, training & support etc. – it really made sense to me and seemed to open the door to a much wider range of opportunities.
"I first thought about brands like Subway and Dominos. Both were options that I really felt I could turn my hand to successfully, but when push came to shove, neither ticked what turned out to be the most important box for our family."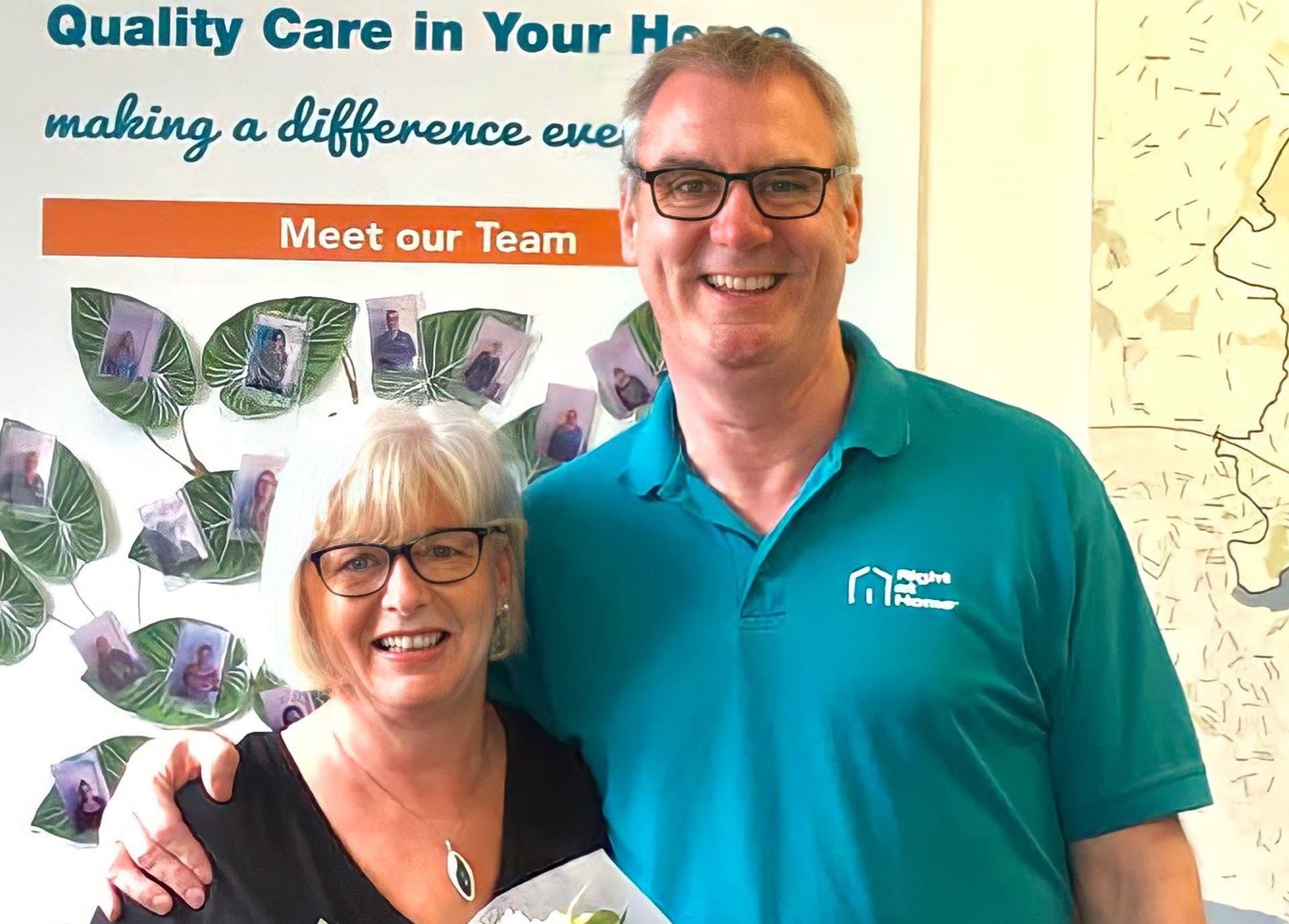 Joe's wife Madeline explained: "Faith and the Church are central to our family. After working really hard over the years and enjoying a comfortable lifestyle, we wanted to make sure that whatever choice we made in terms of having our own business, was one that would benefit others and enable us to really give something back. A friend of ours mentioned a client with a homecare business and we both felt this might be the perfect sector for us to explore."
Joe and Madeline identified the main franchise brands in the sector and got in touch with all of them.
"Let's just say they all have a different approach to selling franchises," said Joe. "To be honest, with some, the second they knew we were interested and had the franchise fee, the phone never stopped ringing with pushy sales calls. When we approached Right at Home however, it was a different story. It was clear that we would need to prove to them that we were worthy of being awarded the franchise, rather than them trying to convince us to buy one."
At that early stage, Madeline was still teaching full time. "Our intention was for Joe to run the business with me supporting him from the side-lines. Right at Home wanted me to join Joe for the meetings regardless, and I found their whole approach really family orientated and inclusive. Straight away everything about it just felt right – the brand, the approach, the integrity and ambitions of the franchisor, but also, we could see just how much of a difference we could make to our community. We were looking for a business that we would be proud to run, and I think we both just knew that this was it."
"There was really no comparison for me," Joe agreed, "so I was happy to fully embrace the recruitment process. The truth is, I found it extremely reassuring to know that I'd be joining a network of people who'd all been through the same rigorous selection process and successfully come out the other side to start their businesses. To me, that seemed like a good team to be part of – and in January 2016 we launched Right at Home, Portsmouth."
Joe quickly found that even with the benefits of franchising, the early days of getting the business off the ground were tough: "As great as the training and support was and is, that first year was really challenging. Finding the right Registered Manager was the biggest problem and for a while I was effectively doing every role in the company myself."
Madeline added: "The decision for me to become more hands-on in helping Joe came earlier than planned, but it was really a reflection of how emotionally involved in it we had all become. There was never a doubt that it was going to work, but we were motivated to get there more quickly because we wanted people to get their care from us. There are of course other good care providers out there, but there are also those who aren't, and we just felt compelled to give local people the choice of getting the best care possible, as soon as possible."
Having followed a steep learning curve in care, Madeline made the decision to take on the position of Registered Manager in the business.
"We have a really fantastic core team of 10 now that includes Madeline and two of our four daughters Emma and Niamh in the office," said Joe, "so it has become a proper family business. I don't know how well it would work if we were selling pizzas, but we certainly work well as a team here. This maybe isn't what the girls thought they'd be doing job-wise, but there's a feel-good factor to this that I think they realise they wouldn't get anywhere else."
Madeline agrees: "The feedback from our clients and their families just warms your heart. We got into this to make a difference in people's lives, and when you get confirmation that you really are, there's no feeling like it. There's no question that we made the right choice. Yes, this is a profitable and growing business, and of course it needs to be, but for us, it's having a business we can be this proud of that brings the greatest reward."
"I'll give you an example," says Joe. "We had a client who had broken his back. A former footballer in fact. When we first started to help him, he struggled with almost everything, then after three years of supporting him through it all, he was back to going to the gym every day! For me, being able to play a part in that sort of life-changing recovery for someone – that feels like a success story not many businesspeople get to have. While that might be a stand-out example, our Carers regularly send photos back to the office of themselves having a great time helping the clients and they always have lovely stories to share when they come in – every week brings magic moments."
Join a Community of Business Owners Who Care
Right at Home franchisees build more than just a business; they build a care team dedicated to going the extra mile. With 6.5 million seniors requiring daily assistance, Right at Home offers exceptional home-based care, with the aim of making a difference every day.
With or without previous care experience, you can build a truly rewarding business
Our RightStart training programme guides you through every step
Be part of a unique caring culture of driven business owners
With the support of our national office team, deliver the highest standard of care
If you share our franchisees' passion to make a valuable difference to your local community, find out more about our award-winning management franchise.