Julie Houston: Called to care
Within her first year, Right at Home franchisee, Julie Houston, won two awards for her new business. What is it about Julie and the Right at Home model that allowed her to become successful, so quickly?
Julie Houston's two award wins in 2018 have given a great boost to her already thriving Right at Home business. "It's been really good for the team's morale – we've done a lot of celebrating!" she says. "The awards provide our business with credibility and visibility in the local community. We've been able to share our wins through social media and in various articles and it's really helped our brand."
Before she opened Right at Home North Cheshire, Julie worked in the corporate world, as a bank Regional Manager. Seemingly a million miles away from the care industry. But, she points out, this helped her develop skills in business and managing people. "I'd done a lot of people management, which has really helped my new business venture," Julie says.
Her move into franchising came from a place of personal anguish. "When I was searching for care for a family member who needed it, I was disappointed and frustrated by the poor standard of care available. So, I started considering the care industry, as I knew I wanted to be able to offer better standards of care."
"I'd originally came across franchising, whilst working for the bank. I didn't fully realise the benefits, though, of taking on a business model which is proven to work, providing you stick to the model. Through franchising, you can build a successful business, and this is what attracted me," she says. "Franchising gives you the security of a brand you can rely on, but you develop and run your own business."
Every Right at Home franchise owner shares this common value of helping others and of putting Clients' interests ahead of all else. Our owners operate from a local office, personally appointing a fully-registered care professional, and a team of carers, to build a quality business in their community. You don't need previous experience in the care sector to consider a Right at Home franchise, simply a burning passion to provide outstanding care and give back to your local community.
Right at Home became Julie's dream choice as the brand connected with Julie on a personal and emotional level. "Right at Home's values were exactly what I would want for my family. So, the franchise model immediately felt right. When I met with everyone at the Right at Home National Office, I felt comfortable with them as they shared their passion and vision for the future of the brand, and especially appreciated how rigorous they were on the recruitment process," Julie says.
Julie credits the training she received, her banking background, and the ongoing support of the franchise for all the success she has seen in a short space of time. "I have a great team around me, who all live the values of Right at Home with me." This is an integral part of her business, as her CareGiver Team deliver on the promise to offer quality of care for her local community, "For me, being involved in the care industry means our success is based on the feedback of our Clients. You're changing people's lives, every day. I think the passion and drive for what Right at Home offers comes out at all levels. We all want to make a difference, which drives us on, so we can help more people. As a franchisee, I really feel a part of what's happening within the network nationally, because of what I am doing, locally."
Care is at the heart of Right at Home, the heart of Julie's own business and the heart of her sense of self. Her personal reasons for entering the sector allow her to relate to Clients and their families, having 'been there' personally.
"Some of the standard of care out there is not what I had wanted for my family. It's about finding a passion for care, because I absolutely love it. Yes, it can be very sad and it can be hard, but the upside is you're changing people's lives and helping them at a point in their lives when they need the support. It's so important to do it well; with respect and with dignity. I want to be able to give people who are ageing a quality of life."
To find out more about how Right at Home could make 2019 your best year yet, visit www.rightathomeuk.com/franchise-opportunities or contact [email protected].
Julie Houston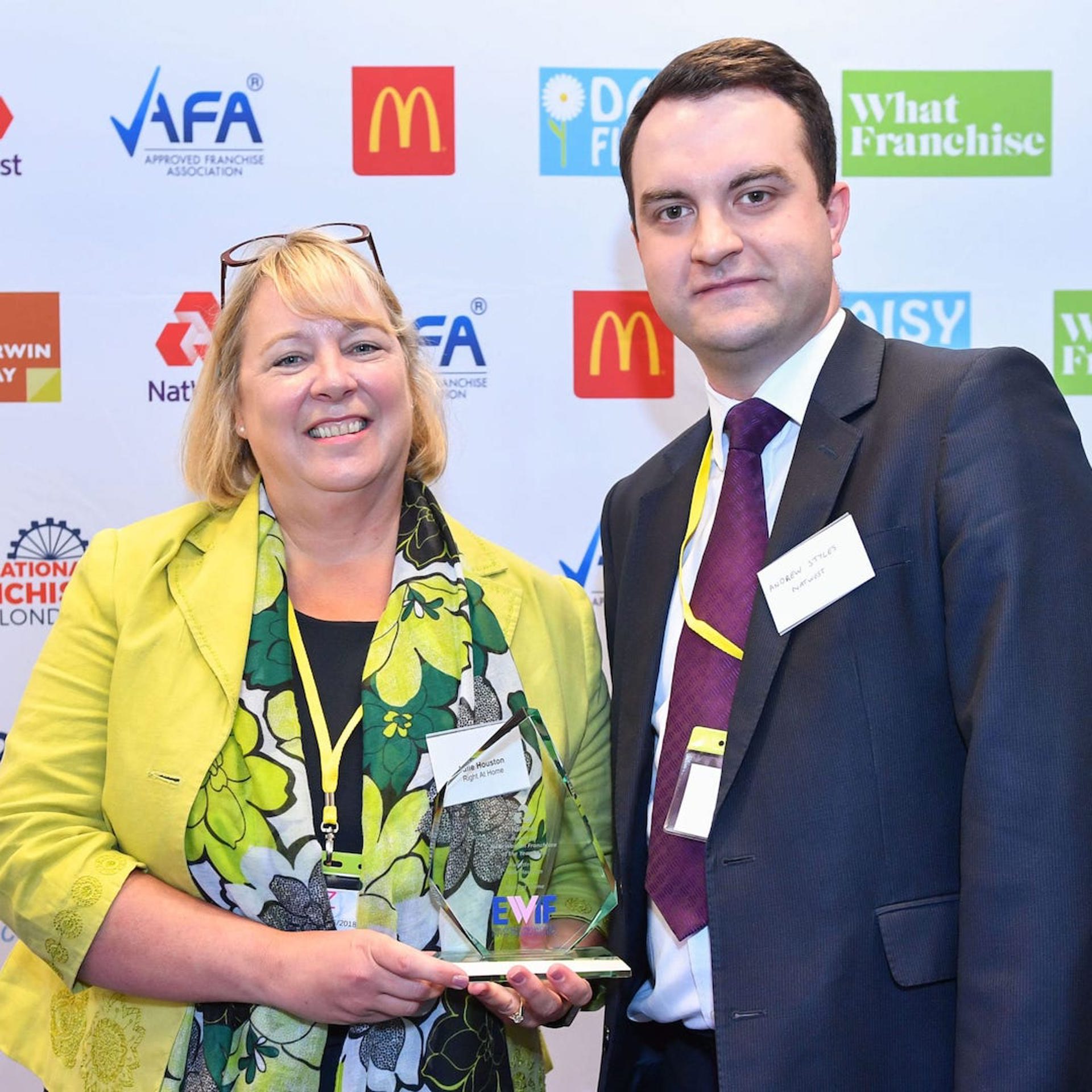 Join a Community of Business Owners Who Care
Right at Home franchisees build more than just a business; they build a care team dedicated to going the extra mile. With 6.5 million seniors requiring daily assistance, Right at Home offers exceptional home-based care, with the aim of making a difference every day.
With or without previous care experience, you can build a truly rewarding business
Our RightStart training programme guides you through every step
Be part of a unique caring culture of driven business owners
With the support of our national office team, deliver the highest standard of care
If you share our franchisees' passion to make a valuable difference to your local community, find out more about our award-winning management franchise.