Husband and wife team Tracey and Michael Scott are the immensely likeable owners of Right at Home, Mitcham. Going into their fourth year with the franchise, these former city lawyers are incredibly proud of their new career in care and are thriving as the driving forces of their own future!
Tracey:
"Before we became part of Right at Home, we were both lawyers. My background was in civil liberties; I always wanted to fight for the little guy and to make an impact. I worked with the Terrance Higgins trust, on immigration law, with young people and with tenants. Having done that for 21 years though, I started to find it more and more difficult to keep being as effective. Lots of things changed, like availability of legal aid for example and I wasn't able to do things in the way I wanted to. You could say my job satisfaction was ebbing. So, I wanted to do something else, but the important thing for me was to have my own business. When working in those previous environments I had all the knowledge and experience but wasn't the one in the driving seat. I suppose I wanted to be in control of making the difference, regardless of what was happening around me.
"Far from making any knee-jerk decisions I spent two or three years thinking of different options and gradually discounting them. But there was always the desire to create an essential service that would have a positive impact.
"A friend of Michael's became a franchisee with Right at Home, and as we learned more about the franchise structure of training and ongoing support, it started to really stand out as an appealing option. But we didn't just go straight to Right at Home, we went to several franchise exhibitions and investigated numerous opportunities across a variety of sectors."
Michael also felt a strong desire to escape corporate life, after spending 25 years working as a lawyer in London.
"There's actually a website called Escape the City that I often looked at, but it's easier said than done! I was an equity partner in my firm and I was very good at the work, but I just needed to do something different, something more rewarding, and I was fortunate to be in a position to do something about it.
"As Tracey said, we considered lots of options, but on the trips to the franchise shows it was the care sector that stood out for us – probably for two reasons: One, as lawyers, we are naturally quite cautious, so we were we looking for something established and without high risk, and two; like Tracey, I also wanted to do something that really made a difference to people's lives.
"I had a great career, but realistically my main role was to make lots of money for the firm – this was a chance to do something with a different kind of reward. Fortunately, this is a franchise that, if done properly, can deliver both personally and financially.
Tracey:
"Needless to say, despite looking at lots of others, we did indeed arrive at Right at Home. One of the things that really appealed to me with Right at Home was how Ken (Ken Deary, CEO) really, really took his time to establish whether or not this was going to be the right fit for both us and the franchise. There can be a sense with some franchises that the aspect of sole importance is the prospective franchisee's ability to pay the franchise fee. With Right at Home, whilst of course being properly and sufficiently funded is crucial, Ken and the team are laser focused on your suitability, your motives, your ambition, and the likelihood of you becoming a successful and contributing member of their franchise network.
"Far from the common approach of making it all sound 'almost too good to be true', they were extremely candid about the realities of building a successful healthcare business, and I was always very appreciative of that."
Michael:
"We were very aware of the statistics around failure rates for new business start-ups, and the truth seems to be that the majority fail, which is really awful. The two-way due diligence, that was insisted upon by Right at Home, was incredibly encouraging and made us feel like, 'ah OK, this is why well-chosen franchisees in good networks have such encouraging success rates.'
"It's a huge decision to walk away from two good salaries and suddenly be responsible not only for creating new income for ourselves, but to be employing other people as well, so the seriousness with which Right at Home took the recruitment process was entirely reassuring."
Tracey:
"As much as Michael said we are naturally cautious, we don't often take the easy route; we really wanted this to challenge and stretch us. Saying that, we would never have tried to do this without being part of a franchise. The magnitude of what is involved very quickly becomes clear. Finding the right Registered Manager, CQC inspections, the recruitment and retention of CareGivers, and the issues around compliance alone are enormous. There's too much at risk in getting it wrong – we wanted to build this business to do good, and it's the ongoing support and expertise of the franchisor that gives us the confidence that we can. And we do! 
It's also a huge support to be part of such an experienced network of franchisees. It's like having a wealth of knowledge at your fingertips! Because if we don't know the answer to something you can be guaranteed that somebody in the network will – it's a constant reassurance. Also, in contrast to being in business completely by yourself, we know that there is an office full of people, all experts in their field, who are working diligently to stay on top of all the constantly changing aspects of the industry and then sharing that knowledge with the network.
You very quickly realise of course that the success of any individual office is very much down to a team effort – you can't do it all by yourself. You need to build a really strong committed team around you who will bring a host of complementary skills on order to bring the whole thing together – and our team is wonderful.
Michael:
For me, one of the great joys is just how broad our roles really are within the company. Something Tracey always wanted to do when she was younger was to be a teacher, so now she takes the lead on all the training we give to the staff and our CareGivers. Equally, I used to like the idea of becoming a journalist, so I take responsibility for writing all the articles and our digital media. We actually take this approach with the whole team, encouraging them to find the aspect of the business they like the most and to really excel at it – it keeps things interesting and motivating.
We want to create a great place for people to work and have a career. Good CareGivers are not easy to find, and they can get a new job somewhere else at the drop of a hat if they aren't happy where they are. They do a really hard job, working largely remotely – they deserve to work for a company that appreciates what they do, has their back and tries to make their days as enjoyable as possible. Equally, it's just common sense that the happier we are as a team, the better a service we provide to our Clients, which is the reason we all got into this in the first place.
Tracey:
Understanding HR is vital to the continued success of the business. We realised very early on that this is very much a marathon not a sprint, and we needed to have the right people on board. It turns out Michael is much better in this particular role than I am, so it's great that we get to make a choice of who has the best matched skill set for a particular job.
Michael:
It's the same for you with developing the business and bringing Clients on board – you love talking to people and showing them how we can help them, so that's a natural fit for you.
Tracey:
That's true, but finding Clients wasn't something I was involved with as a lawyer. I think you just find the strength to do whatever you need to do through the passion of having your own business – you just keep going and keep pushing. I'm really proud of our business and what we can do for people, so it comes naturally to want to tell people about it.
This year especially, it is very clear just what an important service we provide – our Clients need us to be there for them, otherwise important things don't happen. Our CareGivers have been incredible throughout the Covid pandemic, they just keep going and going putting the Clients first at every turn. They really are wonderful, and so appreciated by the Clients – for many of whom our CareGivers are the only human contact they have. Our job throughout all this has primarily been to ensure that they are able to continue providing that service uninterrupted and keep everyone across the team, and the Clients, positive.
Michael:
If prospective franchisees out there want an easy life in return for their investment, maybe they should look at a different kind of franchise or invest in property or something… But if they want an opportunity to roll their sleeves up and create a sustainable and profitable business that positively impacts everyone involved with it, then I can't think of anything better. This has been a great decision and we're both incredibly proud of what we've achieved, both professionally and personally.
Tracey:
We both wanted a change of lifestyle, a chance to do be our own bosses, in control of our future, happy, and to build something rewarding and beneficial for others – and those ambitions have been, and continue to be, fulfilled.
Tracey & Michael Scott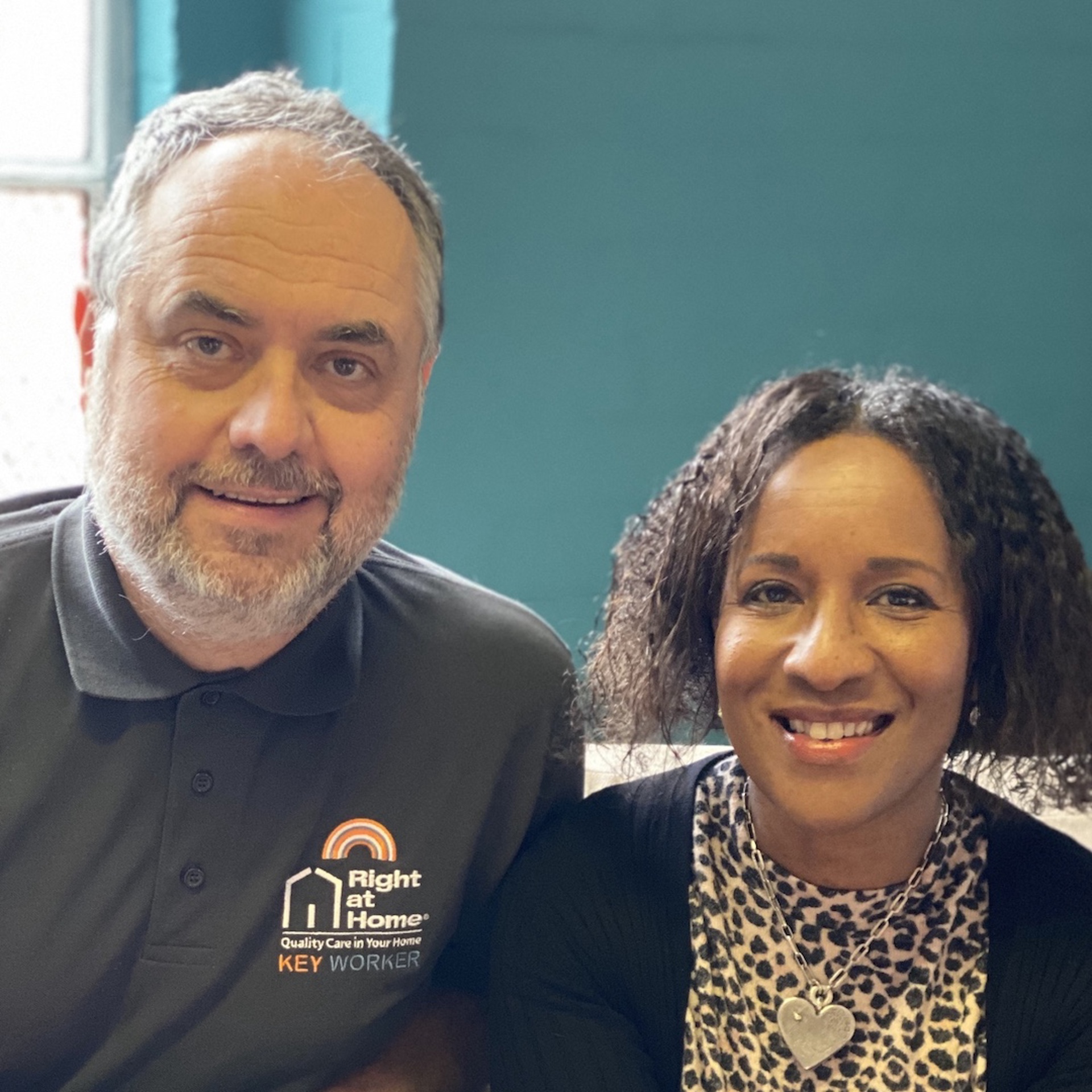 Join a Community of Business Owners Who Care
Right at Home franchisees build more than just a business; they build a care team dedicated to going the extra mile. With 6.5 million seniors requiring daily assistance, Right at Home offers exceptional home-based care, with the aim of making a difference every day.
With or without previous care experience, you can build a truly rewarding business
Our RightStart training programme guides you through every step
Be part of a unique caring culture of driven business owners
With the support of our national office team, deliver the highest standard of care
If you share our franchisees' passion to make a valuable difference to your local community, find out more about our award-winning management franchise.