Looking forward to the bfa Conference and Awards
Two years after Ken and Amy Popat won Franchisees of the Year, we have another franchise owner finalist!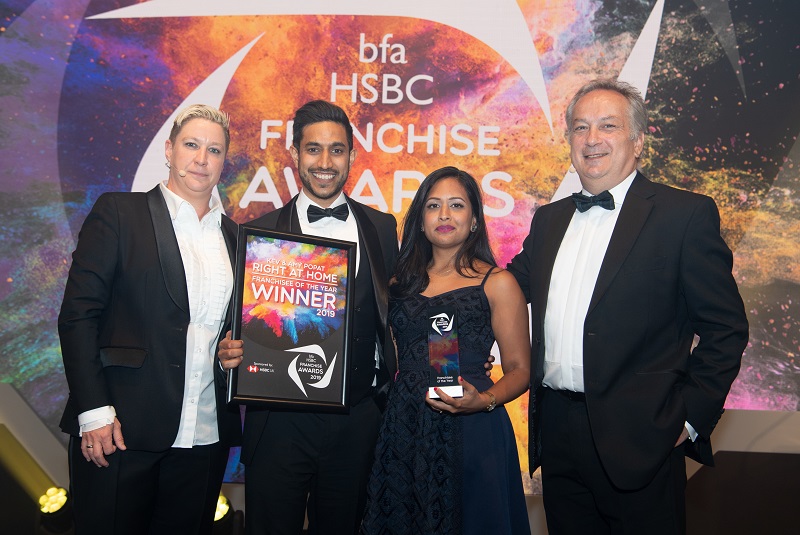 Looking forward to the bfa Conference and Awards
Published: 25/11/2021
We will be joining franchisors from across the UK next week, to celebrate all that's great and good about this industry and reveal which brands are currently leading the field.
The occasion is the British Franchise Association (bfa) conference and it's a huge deal for Right at Home this year, as we are finalists for an amazing FOUR national awards.
This is because a new partnership between the organisers means that for the first time, the winners of both the WorkBuzz Best Franchise Awards and the bfa British Franchise Awards will be announced at the same event.
The conference brings together dozens of franchise businesses, from major household name brands like McDonald's and Costa, to small independent businesses who are just starting to expand into new places through franchising.
These companies have one important thing in common – as members of the bfa they are all committed to practicing and promoting ethical franchising; by giving people strong, proven systems and support to launch new businesses under their brand.
It's also attended by many supplier affiliates, who provide services such as banking and finance, legal support, IT systems and so on within the franchise sector.
The bfa conference and awards also marks the first major industry event that will be held in person since the outbreak of Covid 19.
Right at Home CEO Ken Deary is currently the vice chairman of the bfa. "We are really looking forward to meeting up with other franchisors, franchisees and franchise affiliates once again, at an event that really underlines the strength of this industry and the multitude of benefits that come from business franchising," he said.
"The franchise industry now contributes almost £20 billion a year to the UK economy and, as a self-regulated industry we continue to promote ethical franchising and influence standards, to give franchisors and franchisees the best support for their success.
"Coming together for events such as this gives us the opportunity to focus our collective ambition and address key issues that impact all UK franchise businesses."
COO Lucy Campbell agreed: "In franchising we value being part of a really special business community, in which we can work collaboratively with people from a wide range of different sectors to shape best practice and positively promote franchising as a means of business growth.
"To be in contention for four major industry awards definitely adds an extra level of excitement to this year's event!"
Companies quality for this award by getting exceptional results in their Franchisee Satisfaction Benchmark Survey (an anonymous and confidential survey, that is run by the data analysis experts WorkBuzz, and open to franchisors in all sectors of industry). WorkBuzz put the year's top performers before an independent panel of judges, who consider their all-round performance and future plans when deciding the award winners.
Right at Home is four-time winner and the current holder of this award, and having scored 92% in this year's survey, we are hoping to take the title for a fifth time!
HSBC bfa British Franchise Awards:  Considered a highlight of the franchising calendar, these awards carry a high level of credibility across the industry and business awards in the UK. The separate categories for franchisors and franchisees are designed to recognise and celebrate tenacity, creativity and innovation in franchising; reflecting the high standards that the bfa encourages from its franchise member brands.
Entrants have to meet stringent criteria for each category, and the two-stage entry process enlists the services of another highly experienced panel of industry experts. The bfa says: "Any brand who has been shortlisted is incredibly deserving of their achievement and well worth a close watch." 
We're proud to be nominated for three award categories:
Overall Franchisor of the Year
HSBC bfa British Franchise Awards: Leadership & Culture Award
HSBC bfa British Franchise Award: Local Focus Franchisee of the Year (Alastair Shanks, owner of Right at Home Guildford & Farnham and Alton & Bordon and Right at Home Twickenham)
Alastair's entry highlighted the phenomenal response from Right at Home Guildford & Farnham at the start of the pandemic, to deliver additional support for vulnerable people in the community.
Alastair and his wife Kate developed the Friends of Right at Home voluntary service and within weeks, had recruited 176 volunteers.
Each volunteer was interviewed, trained and DBS checked, and the local council's Coronavirus Support Line quickly started referring people to the service. The volunteers shopped for over 130 people per week during lockdown and offered phone companionship to 36 people. By using its Direct Debit system, RaH GF enabled the volunteers to do their shopping without cash changing hands, which increased safety for service users.
The Friends of Right at Home also rose to the challenge of ensuring vulnerable, isolated people could enjoy Christmas 2020, amid all the Coronavirus restrictions.
Realising that all charity lunches for the elderly were cancelled, Alastair, Kate and 200 other volunteers delivered a portion of their own, home-cooked meal to 108 people on Christmas Day.
CareGivers rallied to deliver care packages and the local Waitrose stepped up to donate Christmas puddings for each dinner.
Alastair has always been a pioneering business figure in his local community. In addition to the Friends initiative, throughout the year he has continued to deliver many community events to support older people. The business has also led the Farnham Dementia Action Alliance, carried out community health checks and provided care training for clients' families in their homes.
The 2021 bfa conference is taking place in Birmingham's Vox Conference centre on Tuesday, November 30th and Wednesday, December 1st.
The Best Franchise Awards will be presented during Tuesday's daytime programme, and the HSBC bfa British Franchise Awards presented at a black-tie gala dinner on Tuesday evening. You can join us to follow all the action on LinkedIn, Facebook or Twitter.