Dementia Support Programme from Guildford & Farnham
At Right at Home Guildford & Farnham, we offer at-home support for people living with dementia to provide our Clients and their loved ones with an improved quality of life.
Dementia Support Programme
A unique service for people living with dementia and those who support them
Specialist care, alongside guidance and emotional support
Helping families enjoy quality time with their loved ones
CareGivers are on-hand where and when you need them most
---
Living with dementia is a big challenge for everyone involved, you do not have to embark on the journey alone. At Right at Home Guildford & Farnham, our support services are available for people with dementia to help them live independently for as long as they can.
We want to support and educate family members on how best to care for someone living with dementia. That's why we offer our dementia support at home, where Clients are surrounded by home comforts. Our support programme aims to help you adapt to a new normal, teaching techniques to help you get the most out of every day. We focus on promoting independence and adapting our level of support according to individual needs. 
Our role is to ensure that you can spend quality time with your loved one without worrying about the practical care they need. Our team can offer you additional help throughout your journey, helping to put you more at ease.
Speak to our team in Guildford & Farnham to discuss your personal care plan.
The benefits of our dementia support programme
---
At Right at Home Guildford & Farnham,  Our CareGivers are not only there for our Clients, but also for their loved ones. When it comes to dementia support, we recognise that a community effort works best. Our team will work to understand and support a person living with dementia. 
We combine practical and physical support with emotional advice and recommendations to maximise the quality time you have together. Our specialist support programme for those with dementia is tailored to the severity of the symptoms, providing extra support where you need it most.

" Fantastic home care in Farnham. This lovely team has been looking after my mum now for ten months in Farnham. My mum has dementia and still lives independently (which the help of the Right at Home team) in her flat. The whole team is professional, friendly and supportive. Really recommend for home care in Farnham. Big thanks"
Katie J
|
Daughter of Client
A Person-centred Approach to Dementia Care in Guildford & Farnham 
---
There is no "one-size fits all" solution to dementia care. Caring for someone with dementia is different for everyone. That's why we take the time to understand our Clients' physical needs and build a trusting relationship with them. We aim to engage meaningfully with our Clients, learning about their life story, their beliefs, and other important subjects that make them who they are. In doing so, we can connect with our Clients and get to know them better as people.
---
Dementia support programme pillars of care
We ensure that our Clients with dementia are supported with all they need to stay healthy and independent for as long as possible. This includes:
1) Maintaining a healthy diet
Dementia can affect the sense of taste and make mealtimes more challenging. We stay focused on providing a balanced, healthy and hydrating diet to make sure our Clients are getting the nutrients they need.
2) Having someone to talk to
Dementia can be isolating, so we aim to give our Clients a sense of inclusion. This could include having a chat about their day, visiting friends, or perhaps a video call with loved ones. We tailor Client interactions according to the individual and their communication abilities.
3) Keeping physically and mentally active
Our CareGivers help to keep our Clients active through physical and mental activities, Whether it's through a board game or a stroll in the garden. This is really important for helping our Clients to remain independent and to reduce their anxiety.
4) Practising familiar tasks
We support people with dementia to do as much as they can for themselves, to maintain their independence for as long as possible. Where necessary, we encourage our Clients to learn and remember by using simple cues, prompts and images. 

"My mother in law moved in with us in December 2020, she has dementia and being in a care home during this difficult time had taken its toll on her. From our first home assessment visit to a change in care needs, the Right at Home team have been amazing. I truly do not know what we would do without them. They are always happy, calm and keen to help and advise. With their help, advice and patience, we have become confident carers ourselves. We couldn't ask for better support for us or care for our mu"
Jackie C
|
Daughter of Client
Why is dementia care important?
---
A familiar daily routine can help those with dementia to make sense of their day and maintain as much focus as possible. Although every individual is unique, dementia typically tends to affect short-term memory first. Keeping up with a routine that closely resembles one they have always had can help to reduce agitation.
One of the key pillars of the Right at Home Guildford & Farnham dementia support programme is to keep up with familiar tasks. In doing so our Clients can remain independent and feel at ease with their surroundings. We work around memory loss using a variety of cues, prompts and images that are familiar to them. Our dementia care programme is here to make your time with your loved one more enjoyable. We help you to understand how your loved one is feeling each day, so you don't have to worry about causing any stress or upset. Our team can help you with tried and tested coping mechanisms so you can be prepared to handle every emotion. 
Discover how Right at Home Guildford & Farnham can help, contact us today. 
Support for families impacted by dementia
---
Our specialist support offers practical and social care for your loved ones, helping to put you at ease. We can help to manage any assumptions associated with dementia. For example, we work with Clients to combat memory loss, keeping them safe from becoming disorientated. We provide all loved ones with the skills they need to connect with their loved ones living with long-term dementia symptoms. We encourage healthy communication, helping you to be aware and prepare for the changes that you may see in your loved one. 
Caring for your loved one can be a full-time job, even when you have external help. That's why it is really important to remember to take time for yourself to recharge and keep up-to-date with your own life. Our primary goal is to allow families to feel confident knowing that their loved ones are safe and looked after.. We provide regular updates, allowing you to monitor progress in real-time when you can't be there in person.
Community support for those living with dementia
---
It's hugely beneficial for a person living with symptoms of dementia to maintain a healthy social life. This can help your loved one retain a good understanding of what is happening around them and stay grounded.  Our CareGivers and Clients enjoy regular relaxing or exciting leisure activities together. Whether it's a game of chess or a day out, we always help our Clients get the most out of their day. We choose support activities that have personal significance and are most enjoyable to them. 
Our team  can also accompany Clients to their own social events, helping them to reconnect with family and friends and feel more like themselves. This approach is based on years of clinical research that suggests we should treat dementia as the start of a new phase in someone's life. Explore how we support our Clients with community engagement in Guildford & Farnham. 
Download Brochure
Thank you for your interest in Right at Home.
Please download our brochure to find out more.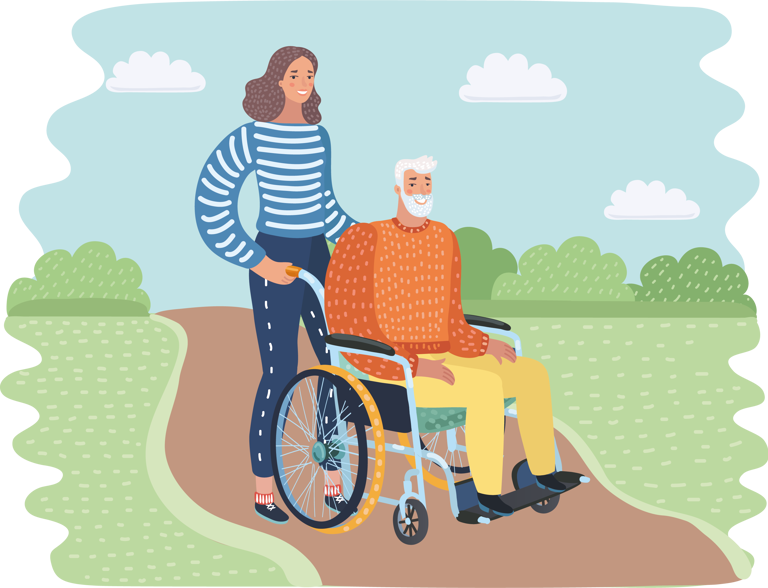 Our Trusted Services
Families just like yours, trust and rely on Right at Home to provide high-quality homecare services for their loved ones. We offer a wide range of services to support Clients to remain living safely and independently in the comfort of their own home.