Stroke Rehabilitation and Stroke Homecare in Guildford & Farnham
Right at Home's stroke homecare services in Guildford, Farnham, Godalming, Farnborough, Fleet & Aldershot can aid those recuperating to live an independent life.
What is a stroke?
---
A person experiences a stroke when the blood flow to the brain is cut off, either due to a blockage or a bleed in the brain. When the brain is starved of blood, it can't access any oxygen or essential nutrients. A lack of blood in the brain often results in brain cells and parts of the brain being damaged or destroyed. 
What happens after a stroke?
---
The after-effects of a stroke vary according to the individual and how healthy they were at the time of the stroke. The impact can also depend on the location in the brain where the stroke struck, its intensity and the extent of the damage caused. 
Prolonged effects of a stroke often include: cognitive problems, communication problems, physical problems, depression, incontinence, pain, and fatigue.
Contact the Guildford & Farnham Right at Home office to discuss how our care at home services can support you.
How can Right at Home Guildford & Farnham help with your post-stroke care at home?
---
The impact of a stroke is different for everyone. Most people see some level of recovery during their stay in hospital. Many continue to recover and regain skills by following a care plan for stroke survivors at home. 
Care plans following a stroke require input and development from a specialist stroke recovery team in a local Guildford & Farnham hospital.
At Right at Home Guildford & Farnham, our homecare for stroke patients can include:
helping with mobility
continence care
managing and administering medication
household tasks
transport
shopping
Importantly, our skilled CareGivers can also support Clients with their recovery and rehabilitation by assisting them to maintain their exercise routines and promoting a healthy lifestyle.
Right at Home Guildford & Farnham also has a Clinical Specialist, based at National Office, who is available to support CareGiver teams across the network when caring for a stroke survivor.

"The service was really helpful, responding at short notice to my relative's urgent need. Staff were professional, reliable, caring and quickly established a good rapport. Would heartily recommend Right at Home to other people."
John S
|
Nephew of Client
Advice for preventing strokes
---
Although we cannot predict when a stroke may occur, keeping up a healthy lifestyle can reduce the risk of requiring stroke rehabilitation and care as we age.
The risk of suffering a stroke has several contributing factors. These include, but are not limited to:
Blood pressure
GenesAge
Diet
Alcohol consumption
Smoking status
Fitness levels
Pre-existing medical conditions
For some of these factors, there's not a lot that you can do - there's nothing we can do about our genes. But it is well-known that maintaining a healthy, low alcohol, smoke-free lifestyle can reduce the risk of a stroke.
It's important to identify high blood pressure. Your GP can check your blood pressure regularly. Doctors can then monitor your status, prescribe medication if required, and encourage lifestyle changes to lower blood pressure to normal levels. Unchecked, high blood pressure is a high contributing factor.
Addressing hypertension (high blood pressure)
---
If you are diagnosed with high blood pressure, it's vital to keep it at a normal level.  
The best strategy for controlling and preventing high blood pressure is to begin with lifestyle changes. For older adults, this often involves a combination of light exercise, a healthy diet and medication.
At Right at Home Guildford & Farnham, our CareGivers can draw up a tailored hypertension programme should you need one. We'll help to encourage a healthier way of life, including:
Development of a light exercise schedule
Coordination of a healthy meal plan
Support with shopping
Meal preparation
Medication administration
FAQs about Right at Home Guildford & Farnham after-stroke care at home services
What is involved in stroke rehabilitation?

The severity of a stroke may vary, but there will often be long-term effects.

Life after a stroke is a long period of recovery and adjustment. During this period, the Right at Home Guildford & Farnham team can help Clients to relearn familiar skills and possibly learn some new ones with our tailored stroke care plans. 

When it comes to caring for a stroke survivor, there are many approaches. Your care plan will depend on how your body has been affected by a stroke. Standard care plans will include physical, cognitive and emotional rehabilitation. 

Through our stroke rehabilitation plans, we strive to enable our Clients' independence and allow them to get back to normal life.
How long does stroke rehabilitation take?

Unfortunately, there is no exact timeline for stroke rehabilitation. The length of your loved one's rehabilitation will depend on the severity of the stroke and any related complications.

Many stroke survivors recover quickly, but most will rely on some long-term support. Treatment can last months or years, at varying levels of intensity. 

The type of rehabilitation you need will adjust over time - as you progress, relearn and develop new skills. Having a support group, including family members and CareGivers in Guildford and Farnham, can be key to ensuring that you keep making progress.
What is the cost of in-home care for stroke survivors?

The price of our stroke homecare and rehabilitation will depend on the Client's specific needs and the number of hours of care provided. In order to deliver effective care, we always insist on a minimum visit of one hour. 

To find out more about the cost of our stroke services, please contact the Right at Home Guildford & Farnham team.
Hypertension information and resources in Guildford & Farnham
---
Stroke is the third leading cause of death in the United Kingdom
Up to 80 percent of strokes are avoidable
For a great resource on living with hypertension, visit the British Hypertension Society
For more information on strokes, visit The Stroke Association
Browse our Information Hub for guidance on Health Awareness.
Download Brochure
Thank you for your interest in Right at Home.
Please download our brochure to find out more.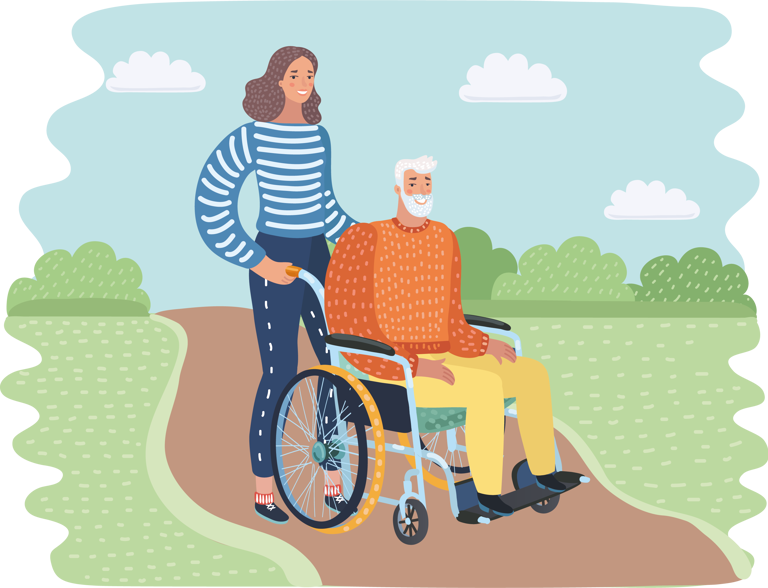 Our Trusted Services
Families just like yours, trust and rely on Right at Home to provide high-quality homecare services for their loved ones. We offer a wide range of services to support Clients to remain living safely and independently in the comfort of their own home.