What types of care jobs are there?
Care sector jobs are varied, rewarding, and offer an opportunity to make a real difference. At Right at Home in particular, we have numerous job roles to suit every lifestyle, ranging from hands-on jobs for part-time CareGivers and live-in Carers to office-based roles like Care Coordinators or Registered Managers.
If you're interested in a career in care, take a look at our available opportunities.
Jobs in the caring profession can sometimes be branded with an unfair reputation. A homecare job description doesn't centre on cleaning up after others - far from it! All of our care jobs involve understanding unique circumstances, building trusting relationships, learning new skills and offering a quality service. 
Each role carries its own unique responsibilities, but the main outcome is always that you are there to support our Clients and their families - regardless of race, religion, gender or sexual orientation. Our CareGivers also enjoy regular training and opportunities for career progression that they may never have even considered! 
We expect that you have plenty of questions about the different job roles in health and social care. We've summarised what our care jobs entail, so you can learn more about roles that really do change people's lives for the better.
What types of Carers are there?
If you choose to become a CareGiver with Right at Home, you will most likely join the team in one of the following roles: 
Your role as a carer will be to deliver services such as personal care, companionship, and support with daily living. Working with the same Clients on an ongoing basis, you'll form relationships and keep track of any changes that you notice in your wellbeing. Above all, our Carers provide any necessary care within the comfort of the Client's own home.  This role is focused on offering a friendly face and a listening ear; it's the perfect role for those just starting out in the homecare field.
In addition to performing the duties of a Carer, Senior CareGivers are also responsible for leading a small team. Drawing upon your experience, you'll shadow new Carers, offering guidance and ad-hoc training, whilst performing quality checks to maintain our dedication to a high standard of care.
Our services range across different areas of specialism, including elderly, dementia, personal and hospital to home care. We also offer respite care for easing the duties of our Clients' primary care providers. As such, our Carers can choose to specialise in certain areas, or to fulfil a range of services for different Clients. 
What is a Live-in Care job?
Examples of social care professional roles vary widely. Indeed, our Carers have the option to work part-time, full-time, or even to live with our Clients. 
A live-in Carer lives with a Client full-time. This is not to say that they are expected to work 24-hour shifts. Live-in Carers work agreed hours and are available whenever our Clients need the most support.
Though the specifics of this role may vary, general responsibilities include supporting Clients with their daily routine. Based on the Client's care plan, our Carers help with washing and dressing, preparing meals and accompanying Clients to any appointments or other engagements. 
Live-in care roles are not to be confused with 24-hour care. For more information, take a look at our 24-hour Support service - which is always shared between multiple Carers.
Find out more about what the live-in Carer role entails.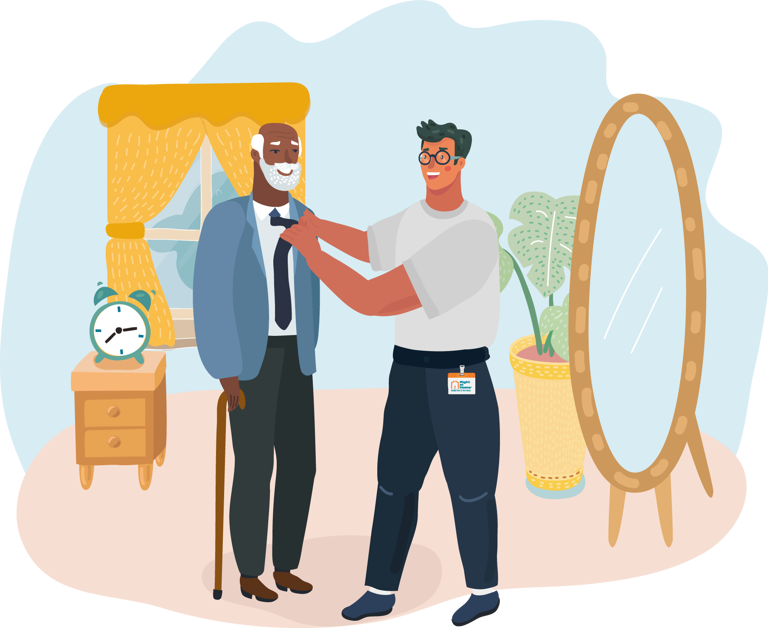 Who would a care role be best suited for?
If you are a hard-working, kind-hearted and determined individual, then our care sector jobs might just be a perfect match for you. We look for people with a positive can-do attitude, as working with vulnerable people often requires you to overcome challenging situations. Of course, we provide full training, as well as constant support and supervision, but positivity is the foundation upon which all of our care jobs are built.
What we look for in Carers:
Above all else, we ask that you have a genuine passion for wanting to help people and a desire to provide the best care and support. Taking an interest in the Client and forming a bond is crucial to building trust, so you must be personable and reliable. We especially look for qualities that suggest you are a strong team player, like being dependable and flexible with your time. 
If this sounds like a description of you, then please do get in touch.
Other types of jobs in the care industry
Recently completed a course and wondering what jobs health and social care can lead to? You may be surprised to learn that not all roles in the industry actually involve providing care. We also offer roles such as:
A Care Coordinator works both in the office and out in the field. Working closely with the junior and senior Carers in your team, you'll make sure that everyone is in the right place at the right time. By scheduling appointments and handing Client liaison, this role centres on customer service and impeccable organisation. Care Coordinators are resilient, determined and invariably supportive of the team they manage.
Compliance Officer 
As a Compliance Officer, you will take ownership of complying with all regulations, laws, quality standards and policies, to ensure a safe environment for Clients and staff alike. This role requires the ability to review and improve internal processes effectively and continually. Compliance underpins our ability to deliver the best possible service to our Clients.
We're dedicated to offering high-quality in-house training to team members at all levels. Delivering effective training to Carers requires an energetic and persistent approach. You must be able to motivate others and drive their performance using creative ways of communicating through your teaching.
As the leader of your team, you will need to implement and manage an excellent business plan and communication strategy to improve the services you offer. Registered Managers work autonomously, taking responsibility for managing budgets, ensuring quality and compliance and leading business growth.
These different types of care jobs are best suited for those who want to take lead of a team. Naturally, these roles come with a greater level of responsibility and require a certain level of experience. However, several of our Carers have progressed to become managers over time, demonstrating their dedication to the care industry.
Learn more about opportunities for career progression in homecare.